As a Registered Psychologist and Certified EMDR Therapist, I provide psychological services to adults, families, and groups.
I help clients resolve current life difficulties, identify life goals, and develop strategies for reaching those goals.
I enjoy working with a range of issues and concerns, but specialize in certain key areas (please see my list of key interests below).
Because I select and customize strategies for the needs of each client, therapy may look different for each client and/or family.
Training & Qualifications
As for my training and qualifications, I have been working with individuals and families for over 10 years. I hold a Masters Degree in Counselling Psychology and I obtained my status as a Registered Psychologist in 2010.
I am a Certified EMDR Therapist and with specialised training in play therapy, Jungian sand tray work, Cognitive-Behavioral Therapy (CBT), and Sensorimotor Psychotherapy (a body-based approach). I primarily use EMDR to help clients heal from overwhelming experiences.
When using EMDR, I use a phase-oriented approach to treatment and am guided by the theory of structural dissociation of personality (e.g, the different parts of ourselves...which we all have), attachment theory (e.g., how we learn to relate to other people and our ability to trust others, ourselves, and the world) and adaptive information processing theory (e.g, reprocessing experiences so they no longer lead to maladaptive thoughts, behaviors, or symptoms).
In addition to these qualifications are my years of experience. Please review my areas of interest and specialty for examples of difficulties I can help you resolve.
Services can be Accessed Privately or Through the Following Plans:
Automobile Accident Insurance (Section B)
Extended Health Care Plan (Blue Cross, Manulife, Sunlife, etc)
IRS (Indian Residential Schools Resolution Health Support Program)
NIHB (Non-Insured Health Benefits Program
Veteran's Affairs
Workers' Compensation Board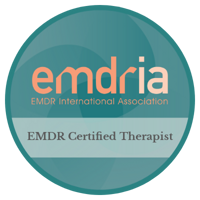 Areas of Interest & Specialty
Adjustment Difficulties - I will support you through a change such as a job loss, recent move, entering into a new relationship or experiencing a loss of a relationship, developing a new diagnosis or health concern, becoming a new parent, etc.
Anxiety - I will support you through feelings of worry, distress, panic, or fears of facing something that may be overwhelming. ​
Depression - I will support you through times when you feel down or when you feel like you can't move forward, have no energy or little interest in doing anything, couldn't care less about spending time with others, or when you feel hopeless about things getting better.
Grief and Loss - I will support you through any form of loss and towards a new 'normal.' This may include job loss, divorce or relationship breakup, family deterioration, loss to death, loss of dreams or health due to a new diagnosis, and more.
Motor Vehicle Injury - I will support you in your recovery so you can get back to driving with confidence. Together, a treatment plan will be designed that is specifically aimed at reducing symptoms interfering with your ability to lead a functional and independent life. As part of our treatment, an initial assessment will be completed, in addition to ongoing monitoring of symptoms and progress. When needed, these findings can be released to your MVA insurer (when accessing your Section B insurance), your lawyer, and your doctor, thus ensuring a collaborative approach to your overall treatment plan and recovery.
Suicidal Ideation and Bereavement - I will support you through thoughts of self-harm and/or a desire to kill yourself or to support you through your loss of someone who died by suicide.
Trauma - I will support you through an experience that overwhelmed you or which you are having a lot of difficulties moving past or healing from. This may include having a very difficult time relaxing, feeling edgy and irritable, experience difficulties in sleeping, not being able to concentrate or focus, experiencing flashbacks or feeling like you are stuck in the past, or getting triggered whenever you see, hear, or think of something that reminds you of the traumatic or overwhelming event.
Workplace Injury - Injuries within the workplace vary from physical (e.g., injured body part) to psychological (e.g., burn-out, workplace harassment, bullying). The impact of these injuries can be permanent (e.g., loss of mobility or range of motion) or temporary. The treatment plan we develop will focus on the psychological and emotional aspects of your injury and target any symptoms that interfere with your ability to recover from the injury or to adjust to any resultant permanent changes. All initial symptoms and progress are assessed and recorded so that results can be shared with other professionals involved in your recovery (e.g., physiotherapist, chiropractor, physician, lawyer, case manager, etc). These services can be accessed independently or through the Worker's Compensation Board (WCB).
Assessment Services
In addition to counselling and therapeutic services, I also provide formal assessment services in the following area:
Diagnosis-to help determine if you currently meet or have met diagnostic criteria for a mental health illness. This can range from (but is not limited to) depression, anxiety, post-traumatic stress disorder, bipolar, etc.
Am I the Best Therapist for You?
There are many therapists available for you to select from, but since we are humans with our own personalities and characteristics, we will not connect or work well with all potential clients.
The connection you do experience with your therapist, however, is responsible for about 30% of the therapeutic success you will experience. Therefore, making sure you have a good connection with your therapist is very important!
To help you determine if we would be a good fit for each other and to give you a sense of who I am and my personal style, I have included a short introduction video that you can view and some points to consider.
We will connect easily and work well with each other if you want:
To work with a therapist who takes an accepting and collaborative approach with clients.
To work with a therapist that uses a sensitive and soft approach, yet can be directive when needed.
To work on improving your current situation, even though you are nervous and worried about how the changes you want may impact you and your future.
To take risks and try new strategies with an open mind instead of immediately deciding that certain strategies won't work.
To look at how certain life experiences, both positive and negative, have impacted you and may be continuing to influence you.
To consider new or alternative ways of thinking about or looking at your life and how you view yourself.
To participate in regular 'check-ins' about our therapeutic process to ensure our work together is continuing to meet your needs.
A therapist that uses evidence-based strategies (aka. strategies that have shown to work) and one who provides information to clients in "everyday" and easy to understand language.
To respect others and treat people with dignity, including your yourself.
To begin living your life more fully because you are dissatisfied with where you are in life.
We Will Likely NOT work well with each other if:
You think therapy will be easy or that I will be doing most of the work.
You want a therapist that will tell you what you need to do so you can blindly follow their lead.